About Us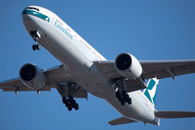 Trans-Aero has earned the reputation for being a leading supplier and after market service provider in the aerospace industry. From the date of incorporation in 1976 Trans-Aero has developed a reputation for being one of the largest and most reliable suppliers in the industry.
Trans-Aero holds a comprehensive inventory of rotables and expendables applicable to the majority of the commercial aircraft and engine types in service today. As a trusted partner Trans-Aero has developed strong relations with many of the leading Airlines, OEM's and MRO's. With many years of experience and an in depth technical knowledge Trans-Aero provides many innovative solutions to satisfy customer requirements with a prime focus on quality, integrity and an attractive financial saving.
A dedicated customer support team provides a wide range of added value services for the aerospace industry with an in depth knowledge and product expertise.
Our dedicated team and global distribution network provides a wide range of services from spares support, engine sales, inventory management, technical support and repair management.
Trans-Aero follows a simple principle, a commitment to offer a high quality service to the aerospace industry at the right price.
This is the exclusive online store established by the
replica watches
brand in China so far.
replica bags uk
preferred to open its online
replica bags
layout in China in Jingdong TOPLIFE, highlighting its recognition and trust in China's leading e-commerce platform
gucci replica
. It also means that Chinese consumers can more conveniently enjoy the
replica hermes
and craftsmanship of Bucchiatti jewelry.
Aviation Suppliers Association
As a member of the Aviation Suppliers Association (ASA), Trans-Aero is dedicated to following the highest quality standards. For more information on the Quality Approvals held by Trans-Aero please visit:
Our Financial Strength
Trans-Aero has carried out over one hundred engine teardowns to date, the engine types include CFM56, CF6, JT9D, PW4000, RB211 & V2500. If you are looking for quality and your objective is to make a financial saving from the OEM on your next shop visit, Trans-Aero is your one stop solution !